August 4, 2019
https://www.traditioninaction.org  by Atila Sinke Guimarães
So few people understand that Francis is not a true pope, let alone what his role in the world is today. The Antichrist has come and gone, and his false popes in Rome carry on his reign in the world. Today, Satan is in full control of every government of the world. This author is astute on the topic of what Francis is doing with his influence over people's understanding of the role of economy. He is both a puppet and a top general in the enemies command unit. He sways the minds of Novus Ordo participants and he is the supreme master of everything that appears to represent Christ in the world. Both a small man and a big hat. When you read this author's keen insight into Francis' wicked play, read the word pope with quotes around it.
On May 1st, day of the International Communist, Pope Francis signed a letter, which L'Osservatore Romano only published on May 12, 2019. In it he summoned young entrepreneurs and economists from all religions and all parts of the world to attend a meeting in Assisi on March 26-28, 2020. He invited them to join together in an effort to launch a new economy, which he names the Economy of Francis.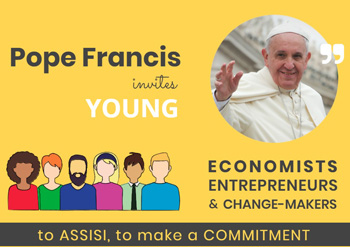 Francis invites young economists and entrepreneurs to join his pact to change the economy
A first reaction to this name is one of surprise: Why is the Pope naming this initiative after himself? Doesn't it look pretentious?
Pope Francis has an escape: He is naming it after St. Francis of Assisi, and he will be meeting with those young people on the date when St. Francis divested himself of his bourgeois clothing and entered a new life, the life of Franciscan poverty. So, the name is ambivalent: Although many people will understand that theEconomy of Francis is the economy of Pope Francis, he can safeguard his humility by saying that he is preaching an economy based on Franciscan poverty.
It is a Jesuit mirror trick to confuse what will actually inspire this "new" economy. At any rate, we can clear up this confusion by stating that the Economy of Francis is how Pope Francis imagines an economy based on St. Francis of Assisi should be.
Main guidelines
What are the principal characteristics of this economy?
To read the rest of the article, press the link below.